Chatsford Village Apartments for Rent in Madison Heights, MI
---
1 Bedroom Apartments, Starting at $1,005
Surrounded by wildlife and trees, this unique apartment building in Oakland County offers you the ambiance of a suburban community with the convenience of nearby metropolitan shopping, entertainment, safety, and restaurants. Our solid brick exteriors invite you into our large apartment buildings. Chatsford Village offers pet friendly units, and has ample outdoor space, making it convenient to take your pet out for walks.
Chatsford Village Apartment Amenities Include:
Fully Updated Kitchens & Baths
Large Walk-In Closets
Spacious Floor Plans
Air Conditioning
Locked Foyer Entry with Intercom
Laundry Facilities On Site
Picnic Area
Lighted Parking
Online Resident Portal
Minutes from I-75 and I-696
Situated Conveniently Between Troy and Downtown Royal Oak
Your new life at Chatsford Village is enhanced by the responsive services of our management team, including 24-hour emergency maintenance. We cater to your special needs with the number one goal of achieving your complete satisfaction.
What are you waiting for? A rewarding experience in high-quality apartment living awaits you at Chatsford Village. Conveniently located to I-75 and I-696, Chatsford Village is only moments away from everything that downtown Royal Oak and Oakland Mall have to offer. Chatsford Village Apartments in Madison Heights, MI is also close to: Ferndale, Berkley, Troy, Auburn Hills, Birmingham, Southfield, Royal Oak, Oak Park, Huntington Woods, Pleasant Ridge, Clawson, Bloomfield Hills, Farmington, Farmington Hills, and all Oakland County cities. Less than a 30-minute drive to Downtown Detroit.
Our Spacious Apartment Floor Plans:
We offer a one bedroom apartment floor plan for renters. The apartment amenities for every unit will features a refrigerator, AC and heating, microwave, and washer and dryer at the apartment buildings. Your one bedroom apartment unit will come with large communal spaces, perfect for having guests over. With total square footage of 770, you and your apartment can lease your unit together without having to live in a different apartment building. Having multiple closets will ensure you have plenty of space to store your clothes. All apartment units for rent come furnished with dining tables and couches. Talk about valuable apartment amenities!
1BR/1BA
770 sq. ft.
Starting at $1,005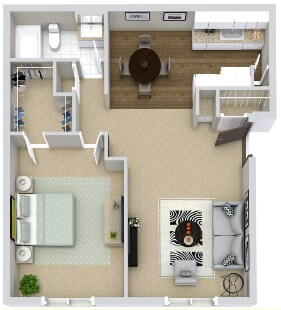 Renting an Apartment in Madison Heights
Renting a 1 bedroom apartment in Madison Heights, MI, gives you easy access to the area's best shopping malls, schools and entertainment. Chatsford Village Apartments are close to John R, between 13 Mile and 14 Mile Roads making it easy to get to where you're going. There is plenty of shopping to be done near Chatsford Village Apartments. From mainstream stores like Target, Best Buy and Toys R Us, to malls and big box stores like Sam's Club. Our apartment property is in one of the safest neighborhoods in Madison Heights, MI, offering plenty of security. This bestows our apartment residents the ability to live a comfortable life.
Things for Renters to Do in Madison Heights
Renters in Madison Heights are never very far from the action. With easy access to freeways, concerts at DTE or events in downtown Detroit are just a quick drive away. Madison Heights has several parks to spend outdoor time with your family and dogs. In the summer, residents enjoy golfing at Red Oaks Golf Course and swimming at Red Oaks Waterpark. In the winter, you'll find one of the area's best sledding hills behind the Civic Center and a beautiful area for cross-country skiing at Red Oaks County Park.
Contact us for availability and price on our listings.