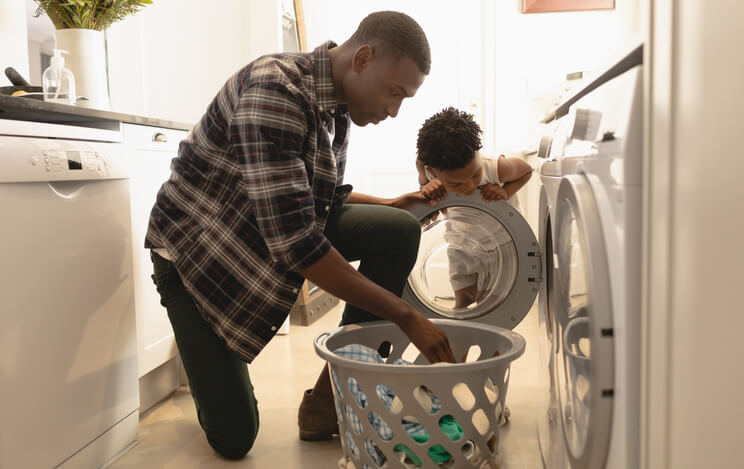 Everyone wants the assurance that they're getting their money's worth in every investment they make, and apartment living is no exception. Amenities improve the quality of life, make an apartment more marketable, desirable, and let you know that your home is a cut above the rest. Amenities turn a good deal into an even better one. Amenity options can be classified as:
Unit amenities - those inside the unit
Community amenities - amenities shared by tenants in apartment living quarters
Neighborhood amenities - those shared by the community
Accessibility Amenities - Amenities designed to let disabled persons live everyday life. These amenities can also benefit people who have difficulty accessing buildings, such as senior citizens and other people with mobility challenges.
Let's go over some of the most important amenities you should look for when looking for your next apartment.
1. In-Unit or On-Site Washer and Dryer
An apartment with an in-unit washer and dryer is convenient for people who live in the apartment or those who have lots of laundry to do. If you don't have in-unit washers and dryers, several strategically placed on each floor of the apartment complex can make a huge difference in convenience and quality of life. Whether it is in-unit or on-site, having a washer and dryer nearby will make your life much easier.
2. Dishwasher
Hand Washing dishes is tedious, time-consuming, and not anyone's cup of tea, especially after a long day at work. The assurance that dirty utensils are not part of your daily to-do list is relaxing. Look for a dishwasher and make sure to ask about the strength of the cycle.
3. Pet-Friendly Amenities
One of the most significant concerns for pet owners is finding a pet-friendly apartment. No one wants to part ways with their furry friend just because an apartment doesn't allow pets. To make the apartment even more pet-friendly, offer small pet-run enclosures and access to outdoor spaces during specified hours.
4. Bike Friendly Amenities
An apartment that offers bike-friendly amenities is a plus for people who enjoy sports. These extras can include bike racks and onsite repair stations. Note that more people prefer getting around on bikes than cars. It makes sense to appeal to this section of the market.
5. Complimentary Amenities (Cable TV, Internet, Utilities)
People are increasingly conscious about paying high utility bills and fees that come with cable TV. A good apartment has basic complimentary amenities combined with optional add-on amenities people can choose from if they desire.
6. Smart Security and in Unit Features
Modern apartment living quarters are equipped with smart security systems and in-house features, making them safer and more convenient. Amenities like smart glass, keyless entry systems, fire alarms, and an emergency response system give renters peace of mind.
7. Extra Storage Space
For tenants with lots of stuff, extra storage space is an excellent amenity that will attract them to an apartment. Extra storage space can be added to entryways, under stair casings, inside closets, and wall niches. Such amenities give additional space to organize things and make life more manageable.
8. Pathways and Amenities for Exercise and Recreation
People have varying interests when it comes to exercising. Apartments that offer multiple pathways for exercise attract a more extensive section of people who like to stay healthy. Amenities can include basketball courts, volleyball courts, jogging lanes, and open spaces for running. Other amenities include tennis courts, swimming pools, and workout areas.
Find the Amenities and Aspects of an Apartment that Feels Like Home to You With Kaftan Communities
An apartment that can accommodate tenants' busy lifestyles and offers privacy, convenience, comfort, and value for their money makes the unit more desirable. Life is about more than surviving and a home should offer more than a bedroom, kitchen, and bathroom. Get the apartment you and your family need with the amenities that will make it feel like home with Kaftan Communities. We have options available for all needs. Give our team a call today to find the right apartment for you