THE BEDFORD Apartments for Rent in Canton, MI
---
1 & 2 bedroom apartments, starting at $1,444
Welcome to THE BEDFORD, a newly transformed community, just a short walk to the heart of the action, yet nestled on the edge of a peaceful neighborhood enclave. THE BEDFORD features a landscaped courtyard with grills and outdoor gathering spaces.
Select from 2 spacious floor plans, each featuring large patios or balconies to create a light and airy atmosphere. Contemporary conveniences include stainless steel appliances, walk-in closets and in-unit laundry per plan. Modern materials make appearances in quartz countertops, luxury plank flooring, ceramic tile backsplashes and contemporary designs.
THE BEDFORD Amenities Include:
Stainless Steel Appliances
Walk-in Closets
Spacious Patio/Balcony
Quartz Countertops
Contemporary Cabinetry
Luxury Plank Flooring
Ceramic Tile Backsplashes
Central Air
In-Unit Laundry (per plan)
Storage Space in each Apartment
Minutes to I-275
Online Resident Portal
THE BEDFORD Apartments are only minutes from I-275, within walking distance to nearby parks, tennis courts, playgrounds and picnic areas as well as great shopping, featuring Ikea and the Ford Road shopping district. Discover a piece of countryside charm while living at THE BEDFORD.
Our Spacious Floor Plans:
1BR & 2BR Apartments with 1 Bath
925 to 1,000 sq. ft.
Starting at $1,444
One bedroom, one bath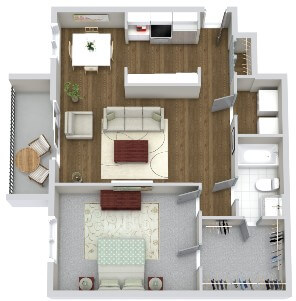 Two bedrooms, one bath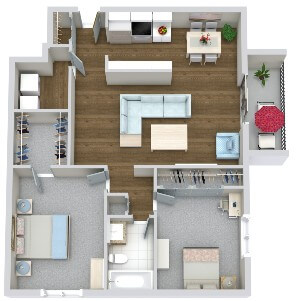 Renting an Apartment in Canton, MI
Canton is situated conveniently between Detroit and Ann Arbor. Canton is a community that has it all. Canton is just minutes from Metro Airport, and within Canton, our residents will find the convenience of shopping, dining and excellent schools. THE BEDFORD is walkable to destination stores, Ikea, upscale shopping and hundreds of popular restaurants and stores along exciting Ford Road. Canton has a rich history and balances small town values with big city offerings. When you rent an apartment at THE BEDFORD, you have an easy commute to the metro area and all it has to offer.
THINGS TO DO within Canton, located in the heart of southeastern Michigan, you will find:
A world-class library
Acres of parks, including nature trails and MTB trails
Canton Sports Center - a robust all-encompassing sports complex
Multiple golf courses
Restaurants for every taste
Canton features a variety of chic and exciting shops and restaurants to explore, and the neighborhood offers some fantastic festivals and events, including the Canton Farmers Market, Sounds of Summer, Summer Palooza, and the Rally on Ridge. Canton is famous for its arts scene and is home to the Summit on the Park and the Village Theater at Cherry Hill.